1840 Brewing | Forgotten Not Lost
It's always nice to feel like you discovered a brewery. Even though 1840 Brewing had been around since 2017, even though people recommended that we stop there on our Great Milwaukee trip of 2019, even though we actually didn't discover 1840 Brewing, it feels like you did because you enjoy their beer so much. When a brewery is responsible for your 2019 Beer of the Year and possibly your 2020 Beer of the Year, you take notice of what they're releasing. Following their Instagram, not really ready to take the risk to drive up to pick up new offerings (screw you pandemic). So when Forgotten Not Lost was released late in 2019, it at the very least sounded interesting.
Biere de Garde Bruin? Like 'em both. Wine barrels? Yes, please. Single barrel? Those are the magic words. 31 months!? You have an interrobang and my interest.
Forgotten Not Lost represents what happens when there's a remainder. Intended for another project, then intended to be blended, it eventually just got released by itself after resting for 31 months in a single red wine barrel. All bottle, no draft. Carbonation kept low to mimic sampling it from a barrel. Let's dive in.
The Beer
True to 1840's Instagram description, Forgotten Not Lost pours with absolutely zero head. The caramel tinted libation stains the glass as you swirl it around and tilt it. Ruby red and crimson highlights appear when tilted in the glass. It kind of looks like a brown ale that someone spiked with red wine.
That red wine barrel is dominant on the nose. Big grape notes followed by barrel and booze heat make this an aroma that fills the room up upon pouring. You've got to do some digging to get past that heavy wine aroma, but beyond it lies a bouquet of raspberries, raisins, prunes and fig accompanied by very slight notes of caramel and roast. A very deep and complex aroma if there ever was one.
Forgotten Not Lost moves slow across the tongue and coats both the tongue and the throat; this is from the very low carbonation. That 31 months spent in barrels really comes out on that first sip. Tons of tannic and sherry notes, followed by a bone dry finish. Dark fruit notes are hiding behind the wine tannins, but this is a showcase for whatever wine barrel was used in the aging process. Very, very faint notes of caramel and toffee are way in the back and barely perceptible. There's a certain wine sweetness that lingers, especially in the throat after you sip.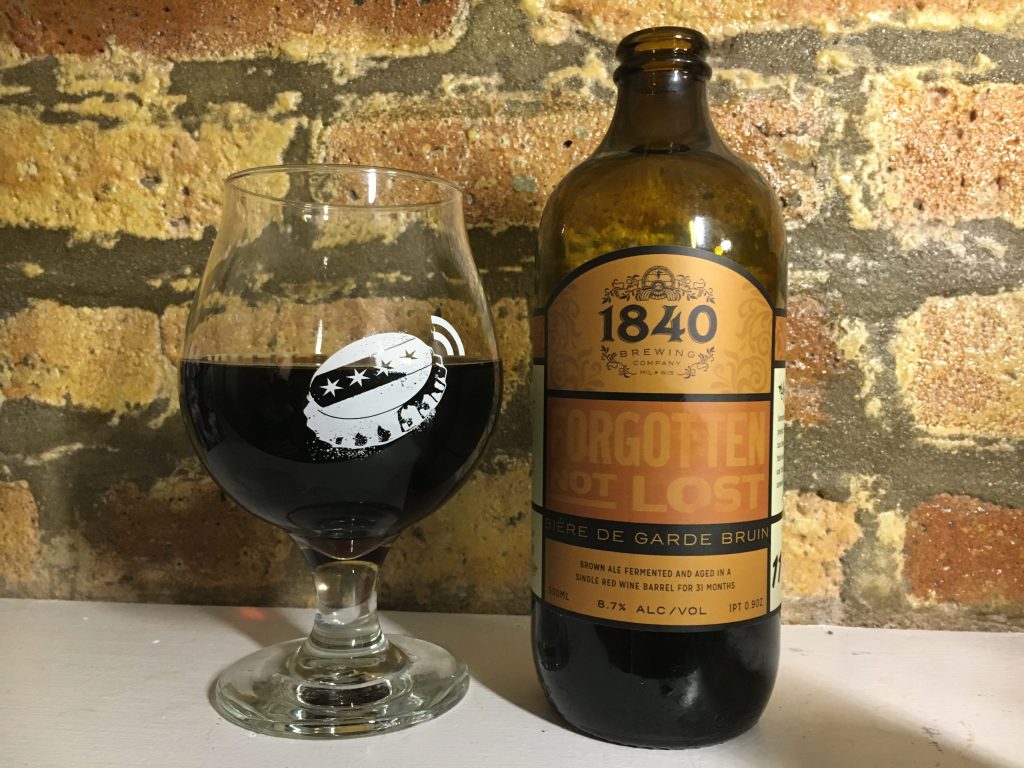 Verdict
Wine drinkers should immediately try and get this beer – they'll love it. For beer people it starts with a bit of a shock at the low carbonation, heavy wine notes and extremely dry finish, but you'll warm up to it. I've been sipping on this beer for the last hour or so; the dryness paired with the wine sweetness really keeps you coming back for more. I'll definitely finish this bottle but it might take some time. Forgotten Not Lost pairs exceedingly well with something like a steak and aged cheddar.
While this beer isn't for everyone, it's cool that 1840 Brewing does things like basically releasing a beer straight from the barrel and the same stout with different months of aging on it (Six, Nine, Twelve, and Eighteen, which we're hoping to do a podcast with when everything's normal). Beers like this teach drinkers about what barrels really do to the beer and I for one am ready to learn. I wish more breweries released beers like this.