ABV Chicago Monthly Sampler: January 2020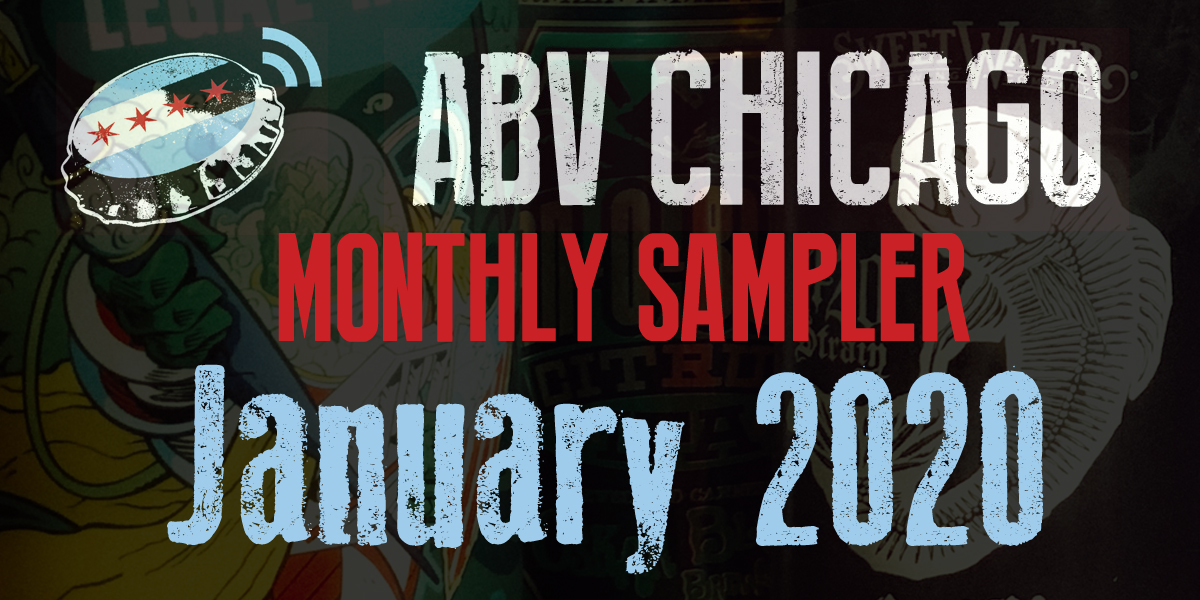 We're starting off 2020 with a new feature for our website: the ABV Chicago Monthly Sampler. Each month we will each pick our six favorite beers we had and write about them, presenting them without any specific ranking. They could've been featured on the podcast, on a Low ABV, or just something we came across at a bar, brewery, or beer event. Hell, in some months, half of Ryan's will probably come from 24-packs he bought at CostCo. We just want to put an extra spotlight on some beers that made the month for us.
Craig's Mixed Six

Pumpkin Spice Latte Milkshake IPA | Milkshake IPA | Central Waters Brewing Co. | Amherst, WI | 7.5% ABV
While the 22 aged in rum barrels with cherries was also good, this was the surprise hit of the party. Focusing on two things that some people hate with a passion and really have no business being together, this pilot batch featured not-overpowering pumpkin notes with slight vanilla sweetness, a smooth, lactose-fueled mouthfeel, and some bitterness on the finish. Pumpkin pie with some whipped cream and a side of hops.
Fizzle Drizzle Strawberry Rhubarb | Fruited Sour | Maplewood Brewing and Distillery | Chicago, IL | 8% ABV

While your mind immediately goes to the New Glarus fruit beer, your body should go to the lounge and try this. A touch of tartness and a ton of strawberry, this Fizzle Drizzle tastes so good I didn't mind that it was released completely out of season for what it is. That tartness gets some support in a lovely effervescence and big fruit notes that make this an absolutely perfect beer for summers on the beach. Please, Maplewood, release this again whenever Chicago decides to heat up again.
PBR Hard Coffee | Malt Beer (?) | Pabst Brewing Company | Los Angeles, CA | 5% ABV (listen)

Expecting a PBR with some coffee in it, I recoiled as it poured like Bailey's Irish Cream. Smelling it reminded me of Fannie Mae candies and tasting it reminded me of why I don't drink coffee – I'd doctor it up to no end. With some slight coffee notes, no booze, and heavy on the sugar and cream, this was sweet but not cloyingly so (for this reviewer at least). Plus it has less caffeine than a cup of coffee (30 mg per 11oz can to at least 80 mg for an 8oz cup) which means I can drink a full 4-pack in one sitting, right?

Editor's Note: I, Ryan, the editor of this piece, think this PBR Hard Coffee is aggressive sugar trash, and that Craig's remaining flavor opinions (for the rest of his natural life) are cast in a new light.
Foudre Coupage (Blend 1) | Farmhouse Ale | Perennial Artisan Ales | St. Louis, MO | 7.2% ABV (listen)

So much fruit without any actual fruit. Cantaloupe, melon, apricot, peach with so many more coming through on the nose and palate. The champagne yeast makes Foudre Coupage so light and effervescent that you can't help but want to drink this 7.2% beer again and again. There's even a slight bit of mustiness and funkiness just to round out this delicious beer that should make you pay attention to whatever Perennial is making, even if it isn't one of their stouts.

13 | Barrel-aged Imperial Milk Stout | Surly Brewing Company | Minneapolis, MN | 12.5% ABV

Milk stout aged in maple syrup barrels with vanilla beans and lactose. Years ago I'd be excited; now I get those dreaded label scares and make an appointment with my dentist. But when the maple syrup and vanilla are both subtle and the lactose is there mainly for some mouthfeel-feels, what you end up with is a beer that reminds you of a pancake breakfast. Added bonus for the packaging of a 16oz can in a box.

420 Strain G13 | IPA | Sweetwater Brewing Company | 6% ABV (listen)

Dank. An overused term for sure if our ode to 311 show is any indication. Whereas most beers going for the dank seem to be stumbling into hazy IPA territory, Sweetwater went to where dank in beers is king – the West Coast IPA – and knocked it out of the park. The aromatics are meant to mimic the fabled G13 cannabis strain, there's bitterness at the end that stays there, and the piney, resinous, grassy notes from the hops shine. Possibly my go-to West Coast IPA (along with anything from Sierra Nevada).
---
Ryan's Mixed Six

Orange Bandit | Hazy double IPA | Black Lung Brewing Company | Waukegan, IL | 7.5% ABV

Waukegan's Black Lung has been releasing beers from their altprop out of Zumbier for only six months now, and their output has largely been comprised of hazy IPAs and adjunct stouts (and a pilsner!) You can't blame a brewery entering the distribution-only market in 2019 for playing the hot hand. But it also can work against them, as those chasing the hype develop unrealistic (and consistently inconsistent) standards for what they desire. So far, Black Lung has offered something that might not reroute the hype chasers entirely, but it would hold its own amongst those who are a bit tired of the extremes in the hazy IPA style. (Although, this same brewery made a carrot cake hazy IPA, which I kind of need to try.) This beer pours with two fingers of bubble bath head, exuding pungent Dreamsicle and tropical passion fruit aromas. Flavors of coconut and cedar stick to the edges of sweet tangerine and peach. There's a significant effervescence that leads to a fuller mouthfeel, with some bitter grass and aloe in the finish. It's one I'd revisit again and again.
The Art of Holding Space | Table beer | Keeping Together | Chicago, IL | 3% ABV (listen)
Though much has been made of our beloved White Sox' offseason activity, adding potentially impactful players at many positions, the best free agent signing in recent beer history has been Averie Swanson's arrival in Chicago. It's not often that your already-rich beer scene gains a Master Cicerone with a proven reputation from another world-class brewery, but we have Swanson's new Keeping Together project (brewing out of Half Acre) to excite us urbanites looking for authentic farmhouse feels. The premier release is a table beer that feels both classic and fresh, pushing out huge fruit aromas like ripe peaches, lemon, and pineapple, with accents of spruce and peppercorn. Delicate effervescence and an exceptionally dry finish are the instant stars, while the flavors of lemon curd, peach, and tart grapefruit whisk across the palate without overstaying. It pairs with all foods and all moods.
Barrel-Aged Imperial Falling Colors: Karmic | Bourbon Barrel-Aged Imperial Porter w/ Cocoa Nibs, Cinnamon, and Coconut | More Brewing | Villa Park, IL | 14% ABV

This is another one where the brewery name is appropriate in every way: More barrels! More ingredients! More alcohol! More words! Using a combination of four different barrels, this Imperial Porter was a bit of a sneaky release, and it didn't garner the hype of their Henna releases. I have no idea why, because this beer is outstanding. Maybe the hype stalled on this because no one adjunct takes over – it's a lovely melding of pastry flavors. Upfront, it's a fresh-baked cinnamon roll with toasted coconut. But the rich cocoa emerges with each sip, before a light vanilla smoothness from the barrel rounds out the ending. It's moderately sweet but never obnoxious. I'll gladly have…an additional amount.
Legal-Hero | Imperial New England-style IPA | Revolution Brewing | Chicago, IL | 8% ABV (listen)

Waiting until legalization to show they are totally cool with weed, Revolution became everyone's weird uncle who falls asleep after every family meal before startling themselves awake to aimlessly scroll through the TV cable guide. This dank-appropriating hazy does give off some stinky yard waste and discount kush aromas, but it's quickly overtaken by indistinguishable tropical and citrus fruits. It's a full-feeling beer that balances the hazy and West Coast styles, with a moderate fruit character upfront, a slight malt sweetness, and a noticeable resiny bitterness in the finish. It's a real grower.

40th Hoppy Anniversary Ale | West Coast IPA | Sierra Nevada Brewing Co. | Chico, CA | 6% ABV

Likely my favorite brewery in the country because I love hoppy West Coast-style beers at affordable per-ounce prices, Sierra Nevada's 40th anniversary beer is shameless pandering to me and I am HERE FOR IT. The profile in this beer quickly becomes an effervescent and bitter streak that is almost Brut IPA-like in its punchiness and dry finish, but there's still some of that signature Sierra malt sweetness near the back end that ends up clinging to the bitter in the aftertaste. I would have no problem with this being a new year-round IPA for them, though it'll probably be short-lived as it gathers 3.7's on Untappd for not being juicy enough or whatever. Us Sierra Nevada SuperFans (we call ourselves the GrossMen) have been spoiled with the back-to-back West Coast IPA domination of Celebration and now this masterpiece.
All The World Is Here | Dry-hopped Cream Ale | Temperance Beer Company | Evanston, IL | 5%

I'm stealing directly from Craig's writeup here: "A collaboration between Temperance, the Field Museum and the Chicago Brewseum, All The World Is Here is a crisp and clean cream ale with some hop bite and a hint of malt sweetness. The corn used in the beer were of the same varieties that were featured at the World's Columbian Exposition of 1893 in Chicago (but, you know, fresh), so not only do you get a drinkable, hoppy cream ale, you also drink some history in a way." I'll also add that the dry-hopping brings out a floral and light citrus character on the aroma that gives you the impression you're venturing into a pale ale, but it finishes like Spotted Cow – all easy and pristine.