GABF 2019: Ryan's 40 Best Beers
Still the biggest and best beer fest around, this year's Great American Beer Festival featured over 800 breweries, which is roughly 10 percent of the breweries operating in the U.S. at this point in time. Over 2,000 beers were poured, and roughly 14,000 pretzel necklaces were crushed into dust beneath the feet of revelous drinkers. So to commemorate all these big numbers, here's like 3,500 words of beer reviews based on my completely arbitrary opinions and unfocused festival plan.
Check out our full GABF 2019 podcast episode, with more in-depth festival talk and interviews with IMBIB Custom Brews, Ology Brewing, Brink Brewing, Pure Project Brewing, New Realm Brewing, New Sarum Brewing, and Barrage Brewing.
(It should go without saying that GABF needs to be on your #BeerBucketList if you've never gone. It's the best time of year.)
---
40. Lawson's Finest Liquids (Waitsfield, VT) | Triple Sunshine IPA | Triple IPA | 10.5% ABV

This brewery logs some serious miles getting to GABF, but they're always a highlight. This Triple Sunshine was one of the earliest Triple IPAs we can remember, and it's a bit of a throwback to the early 2010s style of IPA – upfront malt that helps balance the intense tropical fruity flavors and a bitterness that hangs around well after the sip. The alcohol hides a bit behind the fruit assault – you'd think you were merely drinking a double IPA.
Here's that time we talked to Sean Lawson at GABF 2015.
39. Parleaux Beer Lab (New Orleans, LA) | Bayou Drift | Brett Saison

A very small-batch brewery in the Bywater neighborhood of New Orleans, Parleaux was largely on my list because there were so few Louisiana breweries at the fest. This plush saison with brett has the right balance of fruity esters, overripe banana and pineapple, with light earthy notes, pepper, and a slight taste of band-aid flavor in the finish – which is totally fine when taken with everything else. They seem to make a lot of interesting farmhouse and sour beers, so they'll be on my radar from now on.

38. Jessup Farm Barrel House (Fort Collins, CO) | Mas Lenta | Golden sour ale aged 12 months in Tequila barrels w/ lime and lemon | 6.3% ABV

One disadvantage of the 1-ounce pour is that you get a micro-experience of what it's like to drink more complex beers. I'd love to know how this unravels over a more extend sipping session. But even in a small dose, this light sour is large in citric acidity and oaky Tequila before a relatively easy tart and dry finish.

37. Bagby Beer Company (Oceanside, CA) | Herd of Turtles | Baltic Porter | 9.6% ABV

Great baltic porters aren't exactly filling up draft lines (although my local brewery Kinslahger makes a hell of a great one), and it's a damn shame. And when you have one as good as this Herd of Turtles, it's clear that this style need not be messed with when it comes to unnecessary adjuncts. It's luxuriously roasty, while showing off some chocolate-covered cherry and raisin notes, before a nutty and very slightly bitter finish.

36. Edmund's Oast Brewing Co. (Charleston, SC) | Country Lager | Amber Lager | 5.5% ABV

Almost like a grainy Amber ale, this lager has a kiss of malt sweetness. It's like toasted wheat bread with a light coating of caramel. The sweetness is noticeable yet brief, as it all goes down with a little metallic twinge before an easy finish.

35. Beachwood Blendery (Long Beach, CA) | Dia De Los Mangos | Belgian-style Sour Ale w/ mango, tamarind, and chili | 7% ABV

I had at least one more Beachwood Blendery pour this weekend at Finn's Manor, and they're doing sour beer about as well as anyone these days. This beer hits sweet, spicy, and sour notes in a short progression like a chutney gueuze.
Here's an episode from GABF 2016 when we talked to Ryan Fields of Beachwood Blendery.
34. River Dog Brewing Company (Ridgeland, SC) | Four Barrel Circus | Barrel-aged mixed-culture sour | 5.2% ABV

An update (sequel?) to last year's gold medal-winning 3 Barrel Circus, this beer is very oak-forward with a bit of bourbon Old-Fashioned dark fruit and acidity. It leaves a pleasant tingle in the back of the cheeks, but you're mostly left with a slightly smoky and tannic finish.

33. Prost Brewing Co. & Biergarten (Denver, CO) | Dunkel | Munich-style Dunkel | 5.6% ABV

This year, we finally went to Bierstadt for a Slow Pour Pils, and it was just as good as we hoped. But my big surprise was their excellent Dunkel, which set us on a bit of a dunkel jagen for the remainder of the weekend. This beer was an accidental find as we backed into this booth only to find our first dunkel of the jagen, and it's nutty and toasty with a disappearing finish that is infinitely drinkable.

32. Shades Brewing (Salt Lake City, UT) | Kveik #1 | Dry-hopped golden sour ale w/ Nelson Sauvin | 6.3% ABV

This is another brewery I'd intended to frequent more but lost track of, but we were fortunate to try this kveik-brewed sour. We've become quite fond of the soft peachy character some kveik strains can bring, and that seems to be a big factor in this one. But it's also like a champagne and cider cocktail with a bit of tartness.

31. Cigar City Brewing (Tampa, FL) & Bottle Logic Brewing (Anaheim, CA) | Criminal Commission | Rum barrel-aged imperial stout w/ banana, vanilla, and cinnamon | 13.5% ABV

God bless Cigar City for always bringing some of their big, adventurous barrel-aged stouts to GABF when they could get away with their year-round fare and a single tap of Hunaphu's to gather a line. But they had an Amburana wood-aged stout and this bananas foster-inspired one that hit every note you'd hope it would. The cinnamon and rum barrel combine to make this moderate spiciness across the middle, but it's almost immediately washed down by a banana split. Some cinnamon spiciness still lingers in the finish, and there's a chocolate coating left on the top of your mouth. In other words, there's a lot going on. I hope every brewery who wants to make a pastry stout can try this first.

30. Sunriver Brewing Co. (Sunriver, OR) | Fuzztail Hefeweizen | Hefeweizen | 5% ABV

I don't think I can write 150 words on a hefeweizen, but this is one of the best ones I've ever had, and it's won a few GABF medals to boot. It's soft and flavorful with a little banana ester and orange zest in the finish.

29. Against the Grain Brewery (Louisville, KY) | 70K Amburana | Imperial milk stout aged in Amburana wood barrels | 13% ABV

Normally I'm too busy reinserting my monocle after reacting to an Against the Grain label to remember to actually try their beers, but we sought this one out because of its gold medal last year. Though a bit thin for a 13% stout, the spicy cinnamon wood is the star here, making for something that reminds me of shopping at craft stores in early December, and not a beer label with a guy's shitty underwear for the whole ding dong world to see.

28. HenHouse Brewing Company (Petaluma, CA) | Soft | Saison | 5.2% ABV

I was told that this was a Saison DuPont clone, and it may even drink a little *ahem* softer than the model. But it's a fantastic light and easy saison that gave me a flavor oasis on the GABF floor.
27. Second Chance Beer Company (San Diego, CA) | Tabula Rasa | Porter | 6.2% ABV

This beer picked up its third gold medal in the Robust Porter category in the last four years. It's a toasted porter, and it tastes even better than that sounds. Notes of chocolate and smoke are cut by an oily nuttiness and a little bitter coffee.

26. New Realm Brewing Company (Atlanta, GA) | Hoptropolis | IPA | 6.5% ABV

When you have the guy who wrote the book on IPAs (literally) at the helm as brewmaster, you stride up to New Realm and confidently order one. And this IPA plays with some West Coast-classic characters: tropical fruit aromas with floral and slightly piney hops that lend a medium bitterness in the lingering finish. But there's also some new-school "juicy" characters with sweet pineapple and peach notes to ease the drinkability even further.

25. Societe Brewing Company (San Diego, CA) | The Coachman | Session IPA | 4.7% ABV

A two-time gold medal winner at GABF, it's rare to find a session beer that out-flavors most IPAs on the floor. This one does it, bringing huge fruity notes of juicy citrus and soft peach while still ending slightly bitter. But the barely-there malt flavor and incredibly easy finish give away that it's a session beer.

24. 2SP Brewing Company (Aston, PA) | The Russian | Russian imperial stout | 9% ABV

With another gold this year, that brings The Russian's total up to three over the span of four years. It's reminiscent of some of the early stateside classic RIS's like Old Rasputin or Storm King, as it enrobes your palate with dark roast, bitter chocolate, and licorice.

23. Barrage Brewing Company (Farmingdale, NY) | Assault N Fudgery | Salted caramel, fudge porter | 6.5% ABV

Though they won silver for a Belgian Strong, Barrage's chocolate-dipped pretzel rod of a beer deserves recognition. It has a deeper flavor profile than you'd expect from a 6.5% porter. It's sweet and salty to a great effect, mixing in some rich chocolate for one of the best dessert-inspired beers we had all weekend.

22. Maplewood Brewing Company (Chicago, IL) | Mr. Shakey Strawberry | Milkshake IPA w/ strawberries, vanilla beans, and lactose | 7.5% ABV

The biggest problem with our listicles on GABF is the glaring omission of Chicago breweries who are making beer as well as anyone in the country, and in some cases, even better. The real reason is that we are beer tourists in Denver, tending to gravitate towards breweries unavailable in our region. So we're not just leaving out Chicago breweries but also many breweries that distribute here as well (which is…uh…most of them at this point??) But revisiting this milkshake IPA from our friends at Maplewood was an absolute delight. I've rattled on about my indifference for this style, but when it's done as well as this – which is rare – it's a joy to drink. It's a bit reminiscent of finishing off the melted remains from a styrofoam cup full of Portillo's strawberry shake after cramming two servings of cheese fries. You don't even have to feel dirty about it.

21. Wolf's Ridge Brewing (Columbus, OH) | Clear Sky Daybreak | Cream ale w/ coffee | 5% ABV

A silver medal winner, this beer is the perfect early AM beer if you somehow live the type of life where that is a regular and acceptable need. (Share your secrets, please.) It tastes exactly like a medium roast coffee with two creams, but much lighter – and actually a beer. I was tempted to also include Wolf's Ridge's Terre Du Sauvage Blue on this list, a complex citrusy sour farmhouse.
We talked to Chris from Wolf's Ridge about this beer and more on our GABF 2017 episode.
20. Avery Brewing Co. (Boulder, CO) | PB & J Stout | Stout aged in bourbon barrels w/ raspberries and peanuts | 13% ABV

Ok, so this is overindulgent, and I could probably only tolerate a very small pour of this. But what a pour it is. This is dominated by raspberry jam, but once that subsides a bit, you get a little of the oily fattiness of peanuts, and almost no indication of an alcohol burn.

19. Reuben's Brews (Seattle, WA) | Triumvirate | IPA | 6% ABV

Another former gold medal winner, this is the exact balance I look for in an IPA. It has big hits of grapefruit, citrus, and passionfruit while also getting a little piney in a briefly sharp bitter finish. I'd stock my fridge full of cans of this.

18. Mountain Toad Brewing (Golden, CO) | True Gruit | Gruit w/ yarrow, mugwort, rosemary, thyme, and coriander | 5.8% ABV

Sometimes I have these ideas for beer style quests that sound great until I've just sunk my 17th ounce of barrel-aged-whatever done my gullet, so they kind of fall apart. My hunt for gruits was brief and a bit unfruitful, but this little brothy beauty was a welcome sight. It's full of earthy herbal spice and almost salty savory notes with a very slight sesame cracker finish.

17. Bonesaw Brewing Co. (Glassboro, NJ) | Dark Tower | Munich Dunkel | 4.9% ABV

We really wanted to talk with the people behind Bonesaw, because their story is a great one, and I can see their name growing significantly in the next few years. But I'll settle for this perfectly crafted dunkel that leans a bit heavier on the roast and chocolate characters before pulling back swiftly into an easy finish.

16. Allagash Brewing Company (Portland, ME) | Windfall | Wild ale w/ brettanomyces aged on peaches | 6.5% ABV

Certainly more subtle than their oak-fermented or spontaneous wilds, this beer still manages to go in some unexpected directions. Though there's still a bit of the musty brett funk and peach characters, there's other fruit and spice notes present like currants, cardamon, and nectarines.

15. Black Project Spontaneous & Wild Ales (Denver, CO) | Magic Lantern: Peach, Apricot, Passionfruit | Gose w/ peaches, apricot, passionfruit, and pink Himalayan salt | 5.5.% ABV

Now that over-fruited goses are something of a thing, I appreciate that Black Project shows how you can do the style elegantly. Sure, there's an absolute ton of fruit flavor, but somehow the over-sweetened juice concentrate gumminess from others in this style is totally absent. Instead, the fruit flavors are clear and fresh-tasting, while the sourness of the gose and the salinity in the end make this like a summer afternoon cocktail.
Hear James Howat's crazy Iceland snowstorm coolship story on our GABF 2015 episode.
14. Ology Brewing Co. (Tallahassee, FL) | Juice Lab: Passionfruit, Blood Orange, and Raspberry (PBR) | Berliner Weisse with passionfruit, blood orange and raspberry | 5% ABV

Well this is awkward. So, I just praised a beer for its defiance of overfruited sour trends in favor of a more drinkable and interesting beer. This beer is straight purple purée: thick, tart, sticky, and sweet. It'll stain everything. But it's a great combination of flavors that work so well together, and the base Berliner becomes more apparent on repeated sips.

13. Pure Project Brewing (San Diego, CA) | Corylus | Bourbon barrel-aged imperial stout with hazelnuts, cacao, and coffee | 16.5% ABV

If they are indeed bringing this to FoBAB – and they might be – I would not at all be surprised if this wins a medal. It's an enormous beer in every sense, as it is teeming with hazelnuts and coffee, with some vanilla and caramel tones on its viscous body that help smooth down the bitter roastiness.

12. Dos Luces Brewery (Denver, CO) | Chicha Inti | Chicha w/ cinnamon and clove | 5% ABV

A corn-based beer traditional in Incan customs, this Chicha was my first. This one is vegetal and – for lack of a better term – corny. There's some spice to give it a little hint of holiday muffins, but it's otherwise tortilla soda, and I mean that lovingly as it's so very refreshing to drink.

11. IMBĪB Custom Brews (Reno, NV) | Triad | Gueuze-inspired blended sour ale | 5.9% ABV

Just over a year ago, we were struggling to assemble a podcast episode of American interpretations on the gueuze, but now all those sour programs that started up over the last 3 or 4 years are starting to bear fruit. This may not have the complexity of the Belgian masters – and it's unfair to think that it will – but it does a lot with flavors of oaky green grape tannins, tart apples, and lemongrass.

10. Oozlefinch Craft Brewery (Fort Monroe, VA) | Habitual Hesitation | Imperial saison aged in Chardonnay and Cabernet Franc barrels | 8.1% ABV

Oozlefinch does a lot of things extremely well, but this is the best thing I've had from them in my brief experience. This big saison has fruity esters and peppery phenols peaking through the cracks, but it's also this beautiful effervescent cocktail that gets weighty when you focus in on the combination of wine barrels and how they transform the flavor.
Mike Donovan from Oozlefinch talked with us on our GABF 2018 episode.
9. New Sarum Salisbury Brewing Co. (Salisbury, NC) | Netflix and Dill | Imperial gose w/ coriander, red sea salt, fresh dill, cucumbers, fresh garlic and dill pickling spices | 7% ABV

GARLIC. There's garlic IN THIS BEER. There's a bunch of other stuff too, but the absolute weirdos at New Sarum formulated this recipe and at one point said, "But what about…garlic??" Fast forward many months and my perception of what beer can be brewed with has expanded to include garlic, and I'm still trying to understand this development. This beer goes beyond wacky concept once you sip on it and get a garden of herbal delights, but it's ultimately a gose with some nice pickle juice character, and it's a sneaky 7%. You'll relish the experience.

8. J. Wakefield Brewing (Miami, FL) | Miami Madness | "Florida Weisse" w/ guava, passionfruit, and mango | 7% ABV

This has been a weekend highlight every year J. Wakefield is in town for GABF, and it's consistently near the top of my list annually. For something overflowing with fruit juice, it's spritzy and light in the finish, giving it an effervescent summer cocktail feel.

7. WeldWerks Brewing Co. (Greeley, CO) | Double Barrel Peanut Butter Cup Medianoche | Imperial stout aged in 21 months in two different bourbon barrels w/ peanut butter cups and peanut flour added | 16.8% ABV

The WeldWerks booth might as well become the place to reunite lost friends at GABF, as there's a good chance most people at the fest will make multiple trips through their line. We've yet to have a less-than-stellar Medianoche variant – every single one slaps harder than a Bootsy Collins bassline. This one is strong on all fronts: flavor, thickness, and booze. But there's never a misstep or an off note – each sip is a warm and comforting peanut butter hug.
Hear our post-GABF WeldWerks show from last year, featuring Neil Fisher.
6. Orpheus Brewing (Atlanta, GA) | a light threatens meekly | Blend of whiskey barrel-aged barleywine, adambier, and stout | 13.7% ABV

If you were lucky enough to stop by the Orpheus booth last year, you got a good idea of their scope of offerings from a tart plum beer to an aggressively-hopped double IPA to an exquisite gueuze-style ale. But this year, Orpheus went much bigger, bringing exclusively adventurous barrel-aged beers with names that would fit in with the Jade Tree catalog. This blended beer is next level. While it's certainly whiskey-forward, there's a cavalcade of complementary flavors like brown sugar, plums, burnt cookies, raisins, and Dr. Pepper. It's a sipper for sure, but it's one I'd love to experience open up further in a larger pour. 

5. Brink Brewing Co. (Cincinnati, OH) | Hold the Reins | English Mild Ale | 4.7% ABV

I know it seems like "a choice" to put an English Mild so high on this list, but when you have this one, you'll understand. With a gold this year, a silver in 2018, and another gold in 2017, this beer is exemplary of the dark take on this style while also going a bit bolder in the flavor department. It's a bit toasty and nutty with just a hint of chocolate, but it is quaalude-mellow on the finish and it dries out considerably. This brewery won its second straight Very Small Brewing Company Award, and they should be on the…oh god…brink of bigger and better things.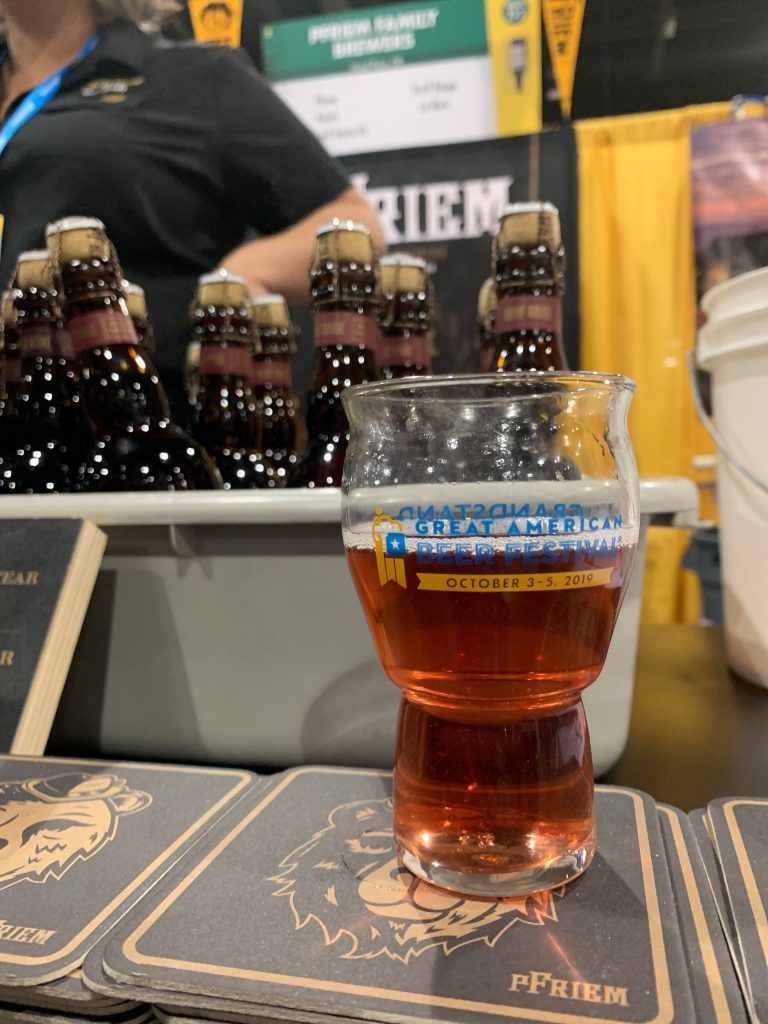 4. pFriem Family Brewers (Hood River, OR) | Druif Rouge | Lambic-inspired ale aged in oak barrels with Pinot Noir grapes | 7.3% ABV

Still quite likely the best brewery in the country, pFriem did it again this year with a booth featuring their cleaner and lighter beers alongside fruited sours crafted like the Belgian masters. An update on last year's medal-winning Druif, the grape notes in this express more than wine, with some fruity currant and watermelon curiously peeking through. It carries a little pucker in the middle, but it ends lightly earthy and dry.
The affable Gavin from pFriem talked with us in 2017 on our GABF episode from that year.
3. Russian River Brewing Company (Windsor, CA) | Intinction – Sauvignon Blanc | Barrel aged pilsner in sauvignon blanc barrels with sauvignon blanc grape juice and brettanomyces | 8.5% ABV

There's so much to the lore of Russian River, and most people know their origins in the world of wine. This beer comes close to a beautiful sparkling wine with only a slight hint of bretty funk pleasantly spoiling the more austere notes of white wine. A cascade of bubbles works its way across your palate leaving only a light deposit of white grape juice along its way. This is a new classic in their repertoire of sours.

2. Prison City Pub & Brewery (Auburn, NY) Elegant Pride | Pale ale w/ lemon zest and mango tea, hopped w/ Mosaic | 6% ABV

This beer was an exhaustion cure. After a long session of drinking heavy-handed sweet beers, my senses were awakened by the first aromatic blast of mango and lemon, which is eventually lightened by the tea leaf. The flavor follows suit: mango and lemon seesaw in each sip before a grassy bite leads to a dry finish. It's a wonderful beer when you want something fruity but not overdone; hoppy but not juicy or bracingly bitter; crisp but still flavorful; and dry but not sour. It is all things.
We chatted up Marc and Ben from Prison City on our GABF 2017 episode.
1. The Lost Abbey (San Marcos, CA) | Veritas 021 | Blonde sour aged in French oak w/ raspberries, Tahitian vanilla, and cinnamon | 6.5% ABV

Last year, Tomme Arthur told us that they probably brought around $10,000 worth of beer to pour at GABF. And if you got in The Lost Abbey line during the first half of any session this year, you had your choice of any of their world-class barrel-aged beers to sample as they were again prepared for their yearly reception. The Veritas label is almost always outstanding regardless of the variation. On paper this 021 might read like some sort of trendy dessert sour, but when you taste the progression of flavors, this beer is transcendent. Sweet and sour raspberries are all over the beginning and middle with a small dollop of vanilla softening things up until the lightly spicy cinnamon takes this thing home for a memorable finish. If the first sniff and sip don't elicit an Owen Wilson-like "wow" from your lips, I would be surprised.
Here's our GABF 2018 episode with that interview with the legend himself, Tomme Arthur.