Off The Deep (Wood) End: The Final Chapter
Be sure to check out our recorded thoughts on the first five Deep Wood beers from Revolution here!
Well it looks like we might have made it – made it to the end. Mercifully (for my wallet), Revolution is wrapping up their 2019-2020 Deep Wood series releases with their final two beers – Cuvée de Grace and Ten Year Beer. Let's see how they stack up against the rest of the Deep Wood class of 2019-2020.

Cuvée de Grace | 14.6%

Aggressive blends seem to be more commonplace nowadays. Firestone Walker pretty much started it (on a retail level) with their anniversary blends, combining some of their barrel-aged Proprietor's Vintages from the year with some unreleased treatments. Heck, even Weldwerks got into it with their excellent Medianoche Premiere Vol. 1. Now it's Revolution's turn.

Cuvée de Grace was first released as a one-off Sanctuary beer at a Deep Wood 2018-2019 release, clocking in at a hefty 18%. Slightly reduced to 14.6% for the wider released, this blend consists of:

36% Dry Straight Jacket 1796 (2 year aged)
17% Sweet Deth's Tar 2114 (1 year aged)
17% Thundertaker (1 year barrel-aged rye stout; new)
14% Jamonilla (2 year aged)
10% Gravedigger Billy (2 year aged)
3% Sweet Straight Jacket Port (1 year aged)
3% Sweet Straight Jacket Madeira (1 year aged)

Whew, I need a drink after that. Hey! There's one right here! Cuvée de Grace pours like a cherry cola – a deep brown with some red highlights. The nose is both interesting and complex, full of caramel, chocolate, toffee, roast, dark fruits, and, of course, alcohol. Not surprising, given the complexity of the blend.

Despite the alcohol on the nose, Cuvée de Grace isn't all that boozy; the shocking thing is how dry it finishes. While there is some toffee and dark cherries thrown in there, the dominant notes that I was getting were of licorice and anise. It's not overpowering and kind of reminds me a bit of Underberg in that regard. The dryness really differentiates it from other barrel-aged stouts and barleywines. Cuvée de Grace is suitably carbonated, with a medium mouthfeel that moves across the tongue.

I have a feeling Cuvée de Grace might be one of the more divisive Deep Wood releases this year. If you like licorice and anise, you'll love this beer. If you don't, you probably won't (but still try it anyways). I'm in the middle, especially among some of the Deep Wood releases this year that have been absolutely amazing. Good, but not great.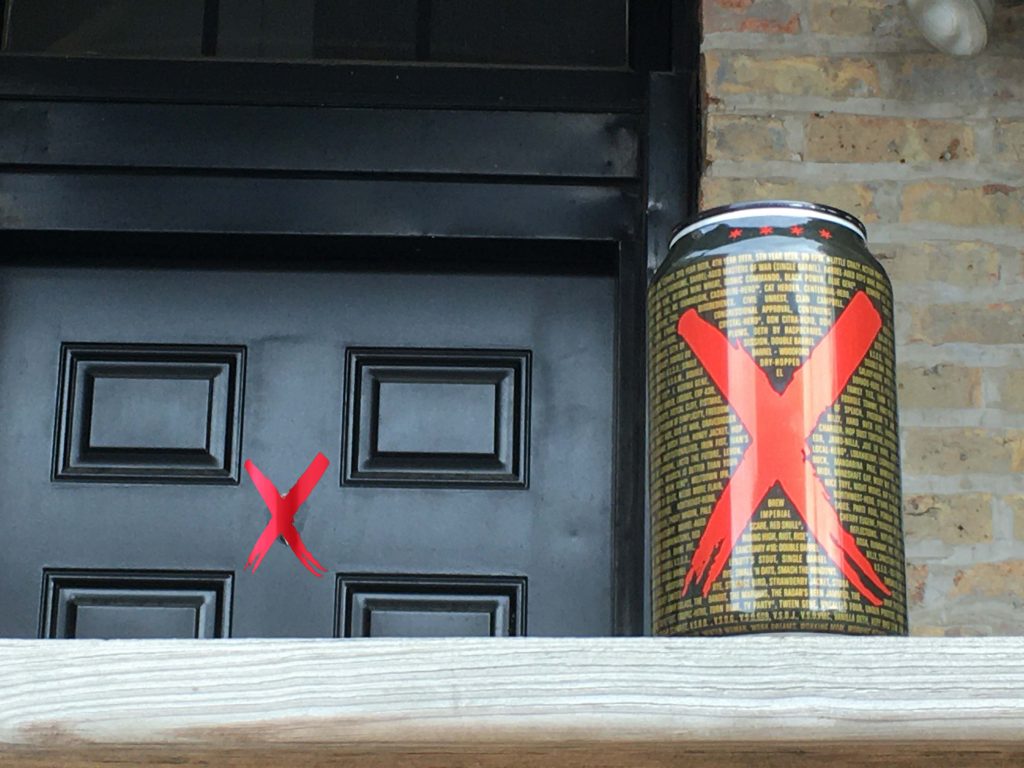 Ten Year Beer | 12.5%

Per my research, Revolution hasn't released a "year" beer since the 2015 release of 5th Year Beer, an IPA. (You can check out our review of 3rd Year Beer here.) So after a five year break, why release something called Ten Year Beer?

It's more along the lines of Revolution figured, "It's our tenth year, why not?" as opposed to making a beer that was specifically Ten Year Beer. This is a barleywine aged for 2 years in bourbon and rye whiskey barrels with cherries. Not hard to figure out that this is V.S.O.J. with cherries.

Also of note is the can, which names as many of the beers that Revolution has released in it's ten years of existence as it can. While it's not all of them (no BA Baracus!), it does have some deep cuts, including Alderaan (the original base for Deth's Tar) and some Sanctuary beers. It's pretty damn cool.

As for the Ten Year Beer, it pours mahogany with a red and pink tint. There's some brief head that reminds me of rosé. While swirling it around it reminds me of red wine. The booze is there in the nose, along with big notes of toffee and sweet cherries; there's some slight caramel and vanilla in there as well.

The cherries make their presence known, as Ten Year Beer tastes like sweet, boozy cherry juice. It's extremely smooth, with some chocolate, vanilla, caramel and toffee in there, but the cherries really take over this beer. It's much like Strawberry Jacket, but the base beer shines through a bit more and rounds it off a little bit more.

I would have liked the base V.S.O.J. to shine through a bit more (much like my complaints about Strawberry Jacket), but it showed up enough that it didn't simply taste like I was drinking cherry juice. It doesn't have the nuance and complexity of V.S.O.J (few beers do), but it is a beer worthy of the Deep Wood label and easily the best "year beer" Revolution has released. I will definitely be getting some 4-packs.

Rankings

Now that it's all over, it's time for rankings! While the highs didn't meet the high of the 2018-2019 releases (yeah, that's V.S.O.J.), Revolution released some of the best vintages of their recurring Deep Wood beers and the lows weren't all that low. Yes, this was the best Deep Wood releases as a whole Revolution has ever released. (Click on the beer to read the full review.)

10 – Deth By Plums. Didn't really like how the fruit played with the stout.
9 – V.S.O.D. A bit thin and not as fudgy as before, but lovely raisin notes.
8 – Straight Jacket. Dry finish and really boozy; started with tons of caramel and butterscotch on the palate.
7 – Cuvée de Grace. Licorice, anise and a dry finish. Not for everyone, but good enough.
6 – Boss Jacket. Sweet with tons of caramel and butterscotch. Dry finish keeps it from being too boozy.
5 – Deth's Tar. Arguably the best vintage of Deth's Tar.
4 – Ten Year Beer. Sweet cherry juice, but enough of the base V.S.O.J. to round it off and make it delicious.
3 – Ryeway to Heaven. Tons of rye and a syrupy thick mouthfeel. Up there with the 2017 vintage.
2 – V.S.O.R. A bigger, better Ryeway. Will age nicely.
1 – Café Deth. A superior barrel-aged coffee stout, but only while it's fresh. DRINK FRESH.

A big thank you to Revolution for these samples and the samples of all the Deep Wood beers this year.

Revolution will be releasing Cuvée de Grace and Ten Year Beer at their Kedzie taproom located at 3340 N Kedzie Ave on Friday, January 24 from 4 PM – 11 PM.
Cuvée de Grace is $35 per 4-pack with a limit of 3 4-packs per person.
Ten Year Beer is $40 per 4-pack with a limit of 3 4-packs per person. It will see limited distribution.