StoutFest 2019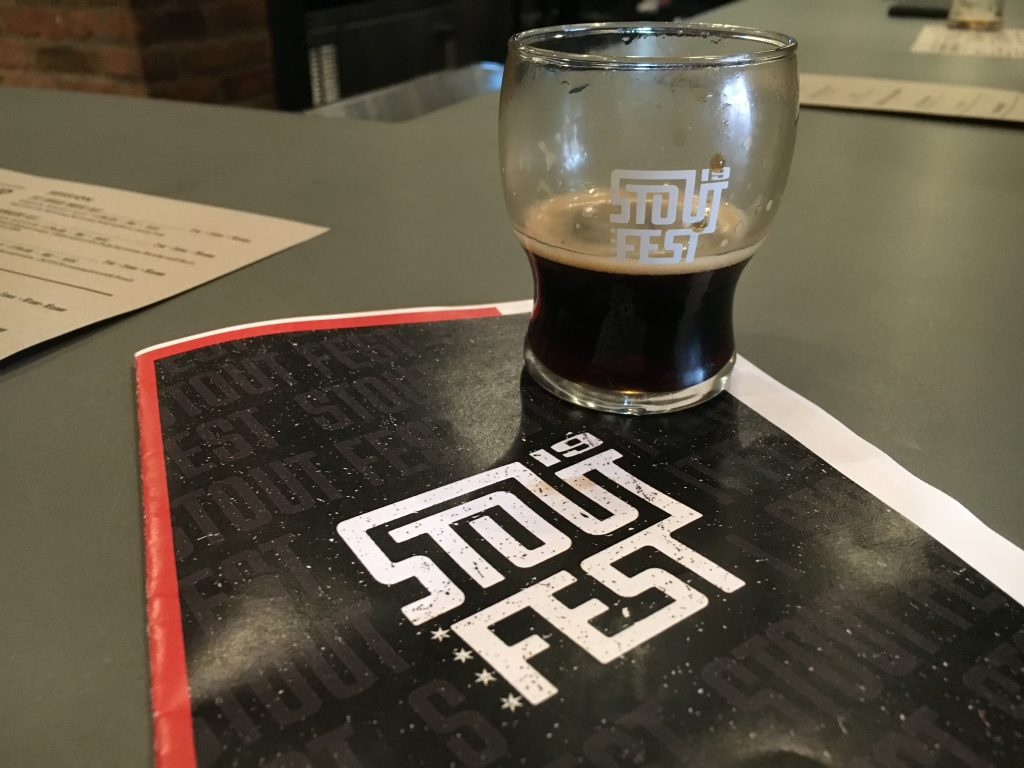 For the second year in the renovated Goose Island Brewhouse, over 30 breweries came to ruin your Monday by pouring a heavy set of adjuncted stouts on a Sunday at Stoutfest 2019.

The biggest news from StoutFest came during the week-long hangover that we likely weren't alone in experiencing. In less than five days after Corridor Brewery & Provisions took the Stoutly Cup for their "Smiling Shadows" and More Brewing scored runner-up with its "Henna Karma Rainbows", news of major personnel changes came courtesy of the Average Joe's Above Average Beer Podcast and @PorchDrinkingChicago. The now-former head brewer of More, Shaun Berns, has left to start his own brewery: Phase Three Brewing Co. Filling the vacancy left by Berns, the mega-talented Eric Padilla is leaving Corridor to head up More's brewing operation out in Villa Park (and soon Huntley?)

Not to be overshadowed, though, is the much-deserved recognition of Cruz Blanca Brewery's incredible barrel program and overall brewing operation, as they earned the "Brewer's Choice." Jacob Sembrano is no stranger to StoutFest recognition as the former head brewer at Goose Island Clybourn (now Goose Island Brewhouse, natch). Now with co-brewer (and handsome Aussie) Todd White, this relatively small operation is rightfully gaining the recognition it deserves. Check out our episode with Jacob and Todd here.

Layout

This might have been the most amount of space I've ever had – or felt I had – at a Stoutfest. Typically all attendees are packed in, with only the thoroughfares for respite, but this one was different. There were times and areas where there was some congestion, but overall it was easy to move and get anywhere with ease. I don't know if it's the new layout or they sold less tickets, but it just added to the overall enjoyment of the festival to be able to not bump into everyone while moving.

"Small bites"

This was an elegant solution for a more civilized Stoutfest. Usually the kitchen was open and guests could order food, then move around the fest getting pours and never get that food. That's where my contraband sandwich becomes a necessity and makes an appearance. But Goose killed my sandwich by offering small bites of burgers and other things, all circulating around the festival as if at a reception or dinner party. Yeah, most of the food went quick, but they kept bringing more out. It was enough so you didn't end up "forgot what I was doing" drunk and, combined with some water stations, kept patrons from passing out.

Goose Island Pastry Stout Bar

Situated immediately to your right as you enter, the Pastry Stout Bar featured "house-brewed Bourbon County Stout" that was French-pressed with one of four pastry items – churro, tiramisu, chocolate cake, and berry pie. I got three of the four (I skipped out on chocolate cake) and the tiramisu was my clear favorite. There was some roast and smoothness on the back end of all the sweetness, most likely from the mascarpone and coffee in the tiramisu. The churro version added too much cinnamon for my liking, while the berry pie was really heavy on the berry and really sweet (but still better than 2018 Bramble!) It was an unexpected and welcomed addition to the festivities and reminded me of a new school version of Goose Island's Bourbon County booth from 2012 FoBAB.

Our Top Three

1. Maplewood Brewing Company (Chicago, IL) – Coconut Cuppa | Imperial Stout with chocolate, vanilla, coconut, and coffee

Like a perfect liquid version of a Samoa, this is full of rich chocolate, sweet caramel, and vanilla notes. But all of that is behind the leading and lingering flavors of toasted coconut. This is one of those rare pastry stouts that elicits a few repours without bogging you down with its richness, which is mainly due to a kiss of roast from Metric coffee beans and a decently dry finish.

2. Cruz Blanca Brewery (Chicago, IL) – Tio Chones | Rum barrel-aged Imperial Stout with banana and Costa Rican/Guatemalan espresso blend

Banana still hasn't quite had its moment in beer, though Goose Island and New Holland have released barrel-aged stouts with banana to wildly varying levels of quality. This beer is another idea that sounds a bit odd on paper but is so perfectly nailed in execution that it can only come from Cruz Blanca. No one is pulling off barrel-aged beers on both sides of the spectrum quite like Cruz, and they deservedly took home the StoutFest Brewer's Cup award this year. This tastes like a rum-soaked banana cream pie with a strong side of roasty coffee. It works so well, I can only hope it puts on a Luchador mask and jumps in the ring later this year.

3. Revolution Brewing Company (Chicago, IL) – Deth by Plums | Imperial oatmeal stout aged in bourbon barrels with plums

The plum flavor is pretty well nested between sweet and tart but it's unmistakable. If this beer reemerges as a canned offering in the last bit of the year, it might be a bit divisive. Personally, I love how the plums give off almost a bit of a dessert wine feel to blend with the chocolate from the base stout – which is not overwhelmed by the bourbon barrels.

The Best of the Rest

More Brewing Company (Villa Park, IL) – Barrel-aged Henna: Toasted Marshmallow | Imperial stout aged in bourbon barrels w/ marshmallows & Saint Errant Brewing (Chicago, IL) – Marshmallow Caullier | Imperial stout w/ cacao nibs, roasted peanuts, and marshmallows

In pitting these two beers against one another, there were significant differences that highlighted why both were good in their own way. The More has an obvious assist from the barrel aging which adds much more of a deep caramel and chocolate complexity. Saint Errant's was like a peanut butter brownie with chewy marshmallow chunks.

Lil Beaver Brewery (Bloomington, IL) – BA Whole Lotta Maple | Bourbon barrel-aged imperial stout w/ coconut, maple syrup, and cocoa nibs)

My preferred volume of maple in a beer is "Just a Little" and thankfully, defying its name, this one merely presents "Some" maple. But it works in balance with the Mounds-bar flavors and makes for a tasty – yet sweet – pastry stout, though I'd probably be good with about 8 ounces maximum in one sitting.

Half Acre Beer Company (Chicago, IL) – VIM | Barrel-aged Baltic porter

Mixing some big vanilla and harsh woody barrel flavors with a lighter-bodied and slightly-fruity porter, VIM stands out from the crowd for being deceptively drinkable and one that evolves more slowly as you sip it. And in a fest full of stouts that read like adjunct pop-up books, it was nice to have this beer as a contrast.

Noon Whistle Brewing (Lombard, IL) – Rye Barrel Aged Schwing! | Rye barrel-aged imperial stout

Compared to the rest of the fest, this was a somewhat straightforward offering in the best way possible. It's big and roasty and chocolatey and a touch spicy with a medium mouthfeel of slightly boozy stout.

Old Irving Brewing Co. (Chicago, IL) – Champurrado Krampus | Milk stout w/ cocoa nibs, Saigon cinnamon, Indonesian vanilla bean, and Ancho & Guajillo chiles

Coming in at 6.5%, this was a pleasant break from the syrupy booze bombs dominating so much of the fest, but it doesn't compromise on flavor. Repeated sips reveal more aspects of the long list of ingredients with a very slight spice. But the aftertaste is chocolate-dipped churro and a sip of horchata.

Hopewell Brewing Co. (Chicago, IL) – Big Cold Brew | Imperial coffee stout

Tons of fresh roast coffee that (I would assume) was somehow cold-pressed into the imperial stout, Hopewell's sole beer at the fest is a delight. With a nice body, some chocolate notes from the stout, a creamy mouthfeel, and, of course, a ton of coffee notes, this requires revisiting.
Also, it would be a mistake if I did not mention the House Pils from Goose Island Brewhouse which I was lucky enough to get a full pour of to nurse for the entire last hour of the fest. I'm sure this beer also tastes great when not followed by 27 stouts, and it made my Monday much less horrible.